for Mobile Phones
RRP $39.99
$9.98
(including GST)
+ shipping
click here
Time Left:
10:06:13
---
Last Purchase by:
EfremBrubaker
This excellent speakphone is specially designed with professional quality in mind with it's extensive battery life and impressive sound quality. It is the safest and most convenient way for you to answer calls on the move. When a call comes in, you simply press a button to take the call or reject the call. And voice-dialing is also available when you make a call. This Bluetooth kit can be used as a hands-free speakerphone in your car, home or office and the rechargeable lithium battery provides you with 10-12 hours of talk time and 1000 hours of standby. The Speakerphone allows you to pair 8 devices in memory and to connect to two mobiles at the same time, so you can stay hands-free no matter which mobile you use.
Features:
Stylish Slim Bluetooth Speakerphone offers users a simple, slim and inexpensive wireless hands-free solution for using a mobile phone while driving.
You can also use it in office or at home, or any place.
Advanced Built-in Microphone, with D.S.P. solution for Echo Cancellation & Noise Suppression
3 Big buttons.
For home, office, car and anywhere you like without the hassle of putting on the earpiece
Crisp and clear voice
Multipoint means it can connect with 2 mobile phones at the same time.
Specifications:
Supported standard: HSP and HFP

Operating Frequency: 2.4GHz~2.48GHz ISM

Talk time: up to 10-12 Hours

Standby time: up to 41 days

Charge time: 3 hours

Charge Voltage: DC 5.0V, 400 mA

Battery: 650 mAh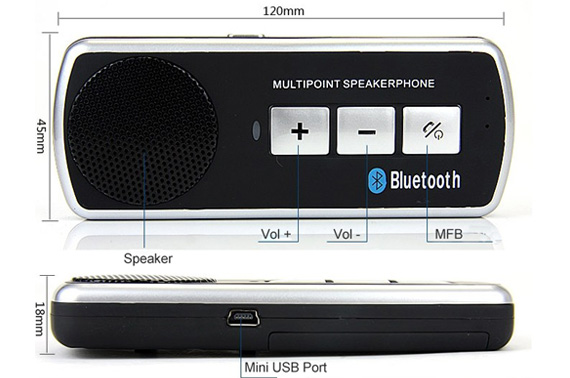 Package Includes:
1 x Bluetooth Speakerphone

1 x Battery

1 x Visor clip

1 x USB cable

1 x Car charger

1 x Manual
Warranty:
Availability:
Please allow up to 2-4 weeks for delivery
No pickup