RRP $99.95
$59.98
(including GST)
+ shipping
click here
Time Left:
09:28:35
---
Last Purchase by:
Hol03ly
Meet the Crash Cam FHD (Full HD). Featuring 1920 x 1080 (@30fps) video recording, you can pick out number plates, street signs, house numbers and people's faces. Enough detail to show the authorities or your insurance company what really happened at the time of an incident. Loaded with a G-sensor to trigger auto saving of files, a HDMI output for your HD TV and a large 2.7" colour LCD, the Crash Cam FHD is featured packed, easy to use and great value for money.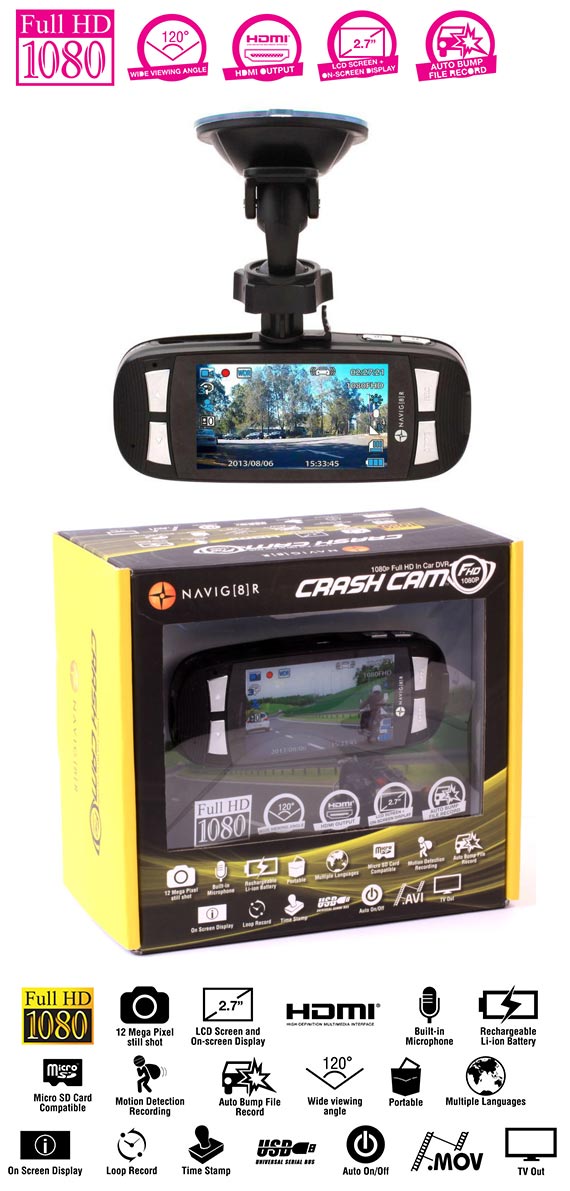 NOTE: the video above is for demonstration purpose only, the actual product might be slightly different.
Features:
Full high definition 1080p video quality provides better image clarity than HD 720p and is more than double the resolution of SD 480i.
Playback recordings on a a Full HD TV (or monitor) using the HDMI connection.
120° wide viewing angle to capture a broad field of view
2.7" LCD screen with On Screen Display - one of the biggest screens in the market
A G-Sensor allows for "bump file record" - so if you get a hit. the recorded video is automatically saved / protected and not over written
Motion recording - Ideal for when you're not there. When movement is detected, recording will start automatically - so now you can record the car that bumped into yours at the car park..
12 months warranty
Specifications:
Brand: Navig8r
Product Code: NAVCAM-FHD
LCD screen size: 2.7
Memory Card Type: Micro SD cards supported. Class 6 or 10 recommended. Maximum capacity is 32GB
Built in Microphone: Y
12v/24v Mini USB car charger: Yes
Still Picture resolution (Megapixels): Up to 12MP
auto on/off with car on/off: Yes
Direct Wire to Car 12v/24v: No. Removable cigarette charger supplied
Video Capture Resolution: 1920x1080, or 1280x720
IR sensors for low light recording: not required (White LED is for light)
Charging Connection: Micro USB
Video Output: Mini HDMI
Windscreen Mount: Yes (Suction Type)
Rechargable Battery / Capacity: Lithium Ion 320mAH
GPS tracking function (via Google Maps): No
Wide Angle Lens: 120 degrees
On Board GPS tracking: N
Device AV output: HDMI for video and sound
Video Playback File Format: AVI
Video Playback software: No. not required.
G-Sensor (Shock sensor): Y
Bump File Record: Yes
Google Map (in software) review of journey: N
Motion Detect Record (whilst stationary): Yes
Loop recording : Yes. 1 or 2 or 3 Minutes
On device Menu Controls: Yes
image size (video resolution): selectable between 1080 and 720
Time Stamp: Yes
Motion Detection: Yes
Audio record (Mic on/off): Yes
Set Record Segment Time: Yes
Night Mode (IR LED illuminators): White LED light only.
Format Memory Card: Yes
Menu Language: English/French/ Spanish/ Portuguese/German/Italian/Simplified Chinese/Traditional Chinese/Russian/Japanese
Reset to Default Settings: Yes
Frequency (for video output): 50 and 60Hz
Date / time set: Yes
TV out (set PAL or NTSC): Yes
Delete images / video on device: Yes
Adjust volume of speaker: Yes
Weight(kg): 0.073
Dimensions(mm): w: 113 h: 33 d: 44
Click HERE to download the 2014 Navig8r Crash Cam FHD brochure.
Package Includes:
1 x Car Crash Camera FHD 1080p 2.7"
1 x Suction-cup mount with built-in GPS antenna
1 x USB cable
1 x Car charger
1 x User manual
Availability:
Please allow up to 2-4 weeks for delivery
No pickup
Warranty: